Are you interested in working with us? Perfect Paws is always seeking more motivated, responsible, dedicated, and caring full-time professionals to join our team! This job is perfect for someone that loves animals, likes to drive, is active, and thrives on being outside!
About Us
We are a Newton-based Outdoor Doggie Daycare and Pet Sitting business. Whether our clients are just away at work or out of town, we strive to give them peace of mind when it comes to their beloved canine companions. Our mission is to focus on positively reinforcing desirable behavior while providing a loving and playful experience. We provide the following services: outdoor doggie daycare in full-days or half-days, home boarding, training, high-energy and off-leash playgroups, pet visits and puppy visit including walks and runs, small doggie daycare, grooming, and massage therapy. We are fully licensed, bonded, and insured. We are also an accredited member of Pet Sitters International as well as the Better Business Bureau. In addition to all of our qualifications and credentials, we pride ourselves in being genuine animal lovers. Look around our website to find out more about who we are and what we do!
About You
We're looking for someone who is responsible, dependable, positive, active, hard-working, professional, and a safe driver. You must celebrate both the challenges and the joys of being outside and working with animals as well as have strong communication, time-management, organizational, and multi-tasking skills. We also value a go-get-em attitude and people who can work independently, think in an innovative manner, are fast learners, are motivated, and follow instruction well. We treat our clients (canine and human) and coworkers like a family and always go above and beyond the call of duty. We are looking for dedicated, full-time staffers who share these values.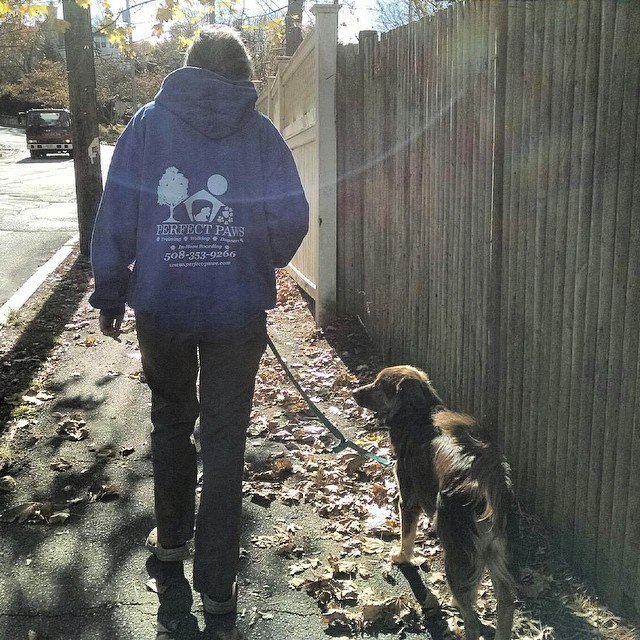 Job Description
Duties include, but are not limited to the following:
Working outdoors year-round in any and all types of weather
Monitoring groups of dogs, daycare, and playgroups in our privately-owned, fenced-in dog park
Playing with dogs and matching dogs with other canine play pals
Transporting dogs in your own vehicle
Training dogs by reinforcing good behavior and correcting/redirecting undesirable behavior
Greeting and interacting with clients (canine, human, and other animals)
Cleaning up after, bathing, feeding, grooming, administering medication, and generally handling dogs and other animals
Writing descriptive and fun communication logs about each dog's day with us
Keeping detailed records of each dog's bathroom habits, activities, demeanor, habits, quirks, and more
Walking, running, playing with, and exercising dogs on and off leash
Eligible candidates should have the following:
Reliable 4-door car – hatchbacks preferred, but not required
Reliable smart phone and nightly access to internet – familiarity with Google Calendar and Google products is a bonus!
Reliable GPS or Navigation System/Device
Familiarity with animals – direct experience preferred, but not required
High School Diploma or GED
Physical strength for a lot of walking, running, standing, bending, and lifting
Please note: This is not a summer position. 
Currently, we are hiring full-time employees who can make a weekly, Monday through Friday, commitment of 9:00AM – 4:30PM. We need staffers who are dedicated and dependable. Our clients rely on us so we need to rely on you!
To Apply
If interested, please send your resume along with at least three professional references. We look forward to speaking with you!